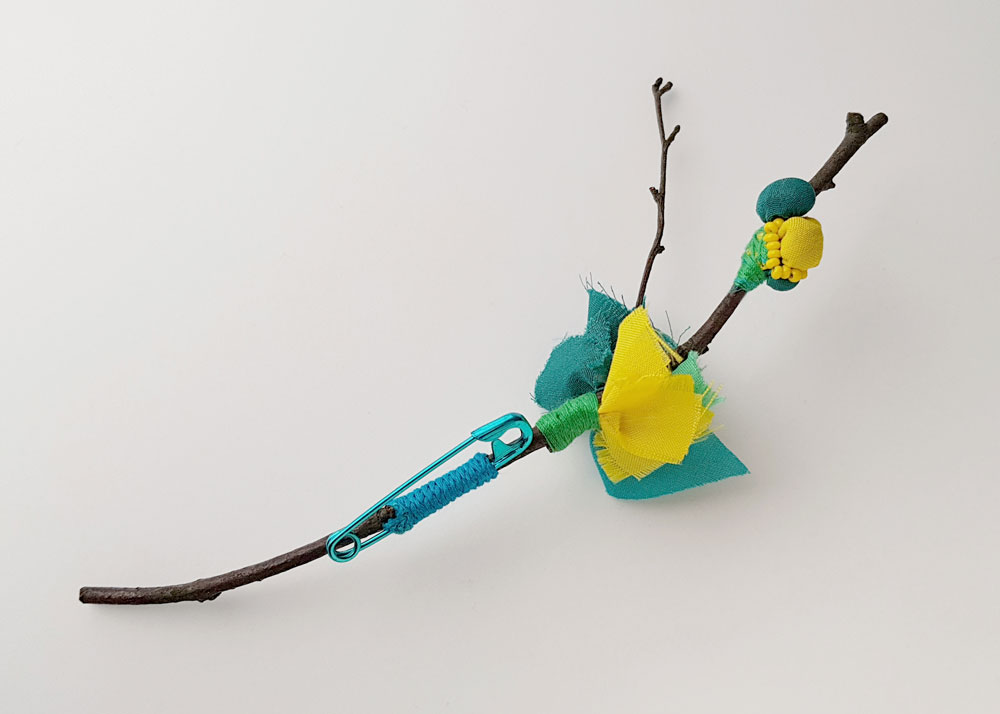 Photograph by Tanvi Kant
Monday 29 March 2021
6–9pm

Live Online Zoom

£45
Materials included in your pack:
Sewing needle
Hand selected sari fabric from the artist's studio

Never used Zoom before?
Click here to download our guide here.
See our Concessions terms below.
---
Who is this class suitable for?
Suitable for ages 16+
Max. 10 people
What will be covered in the class?
We are delighted to welcome textile artist Tanvi Kant in this vibrant textiles workshop to create a budding twig brooch with remnants of sari fabrics. You will learn how to stitch, bind and combine textile embellishments. This workshop is in celebration of the oncoming Spring season and for the colour and vibrancy of life it brings. It is also a special day as Sunday/Monday 28/29 March will be the South Asian Holi and Dhuleti festival on which stories will be presented at the beginning of the workshop.
"Holi: an agricultural festival of fertility and harvest is celebrated by communities across different regions. It is celebrated every year on the day after the full moon in the Hindu month of Phalguna (around March). It also commemorates events in mythology, lighting a fire to symbolise letting go of that which no longer serve us and dismisses social norms into mischievous behaviours merrymaking, bringing all sections of society together in playful antics such as throwing
coloured
powders and water at each other."
---
You will need to find at home:

Sewing thread
Scissors
Fabric scraps (not essential)

To prepare in advance

Participants are requested to explore the ground during a walk outdoors to collect twigs that catch their eye. It would be best to collect them during dry weather and if damp, to air dry them thoroughly before the workshop as they may stain the fabrics.
Techniques
We will create fabric beads to represent buds and tufts of fabrics to create blossom-like elements along the branching form. You will learn how to transform scraps of fabrics into delicate elements of colour and material by hand-stitching, wrapping, whipping and binding.
Tutor

Tanvi's textile jewellery practice began by unpicking the woven threads of her mother's silk sari. Looking for ways to prolong fabrics and clothing no longer worn she developed sculptural cords through wrapping, coiling, knotting and stitching. These award-winning pieces, sub-consciously infused with her Gujarati ancestral heritage reflect personal expressions of her own sense of fluid cultural identities and values. She draws inspiration from the textures, colours, and cycles of the natural world. Her work evolved into hand cut, paste and stitched collage expanding her love of transforming colour-inspired found materials into sensual and tactile organic forms beyond the body.
www.tanvikant.co.uk