Sculpting a Life Portrait from Clay with Sara Myers

Six Week Creative Course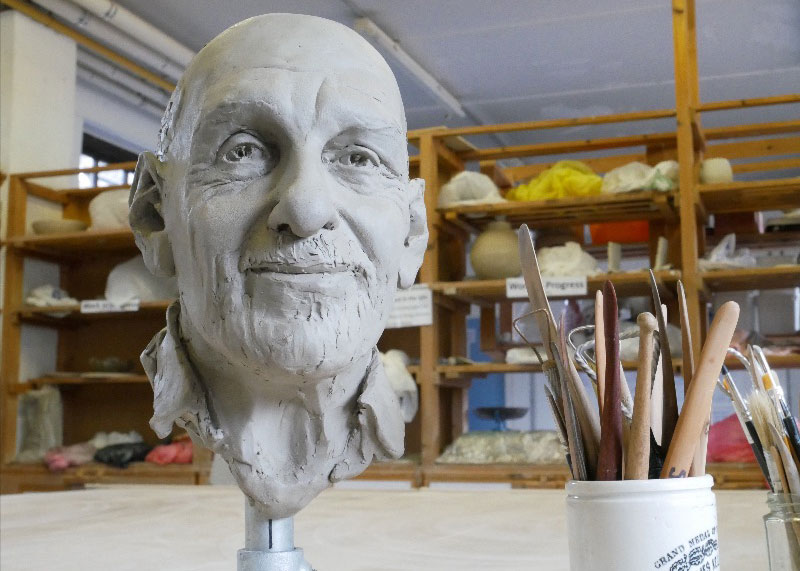 Tuesdays
1.30–4pm

Dates
14, 21, 28 September; 5, 12 and 19 October 2021
£160
Spaces
We are booking up to 8 people on this course, on the understanding that from 21 June all social distancing measures will be relaxed. If this is not the case, we will ask the last 4 people who joined to transfer onto the next available course.
Safety
We are committed to working with our artists and communities in continuing to provide opportunities for creativity during these challenging times. Together, we have been working throughout lockdown in reconfiguring our courses to ensure the safety of all concerned without compromising on quality.
Find out more about our new safety measures.
Gift vouchers available
---
Please read our
Covid-19 Booking Terms and Conditions
below carefully before booking.
---
Who is this class suitable for?
Ages 16+
All skill levels welcome.
What will be covered in the class?
Join artist Sara Myers for these 5 sessions modelling and sculpting a small portrait direct from a model. We will look at the process, how to approach the sculpt, scaling down, method of application, use of tools and the forms and approach.
The last session will be spent scooping out the clay head and prepping the piece for firing.
Students will leave with a half life size terracotta – fired portrait and the knowledge of how to make one, including greater understanding of the form and character of the head.
Download our
Ceramic Studio Handbook
for further details on our studio terms of use.
---
What will I need to bring?
Materials and tools are included.
Location

Art Studio. The art studio is situated at the top of a flight of stairs. Tools are all light and accessible. Work benches are not currently height adjustable.


Tutor

Sara Myers is a sculptor with a classical training. She works on commercial and her own Sculpture practice here in Milton Keynes and has taught Art at undergraduate level, and run life drawing and sculpture workshops alongside her practice for many years.
www.saramyers.co.uk
🌍️
In an effort to make our site more environmentally friendly, we ask that students respect our wishes to reduce the amount of uncollected/ unwanted work at the end of term by carefully considering what is they make using an allowance of up-to 6kg of raw clay per term. Should more clay be required, this will be allocated at the discretion of the tutor.