Pointed Pen Calligraphy & Flourishing Forward with Christina Janoszka

Ten Week Creative Course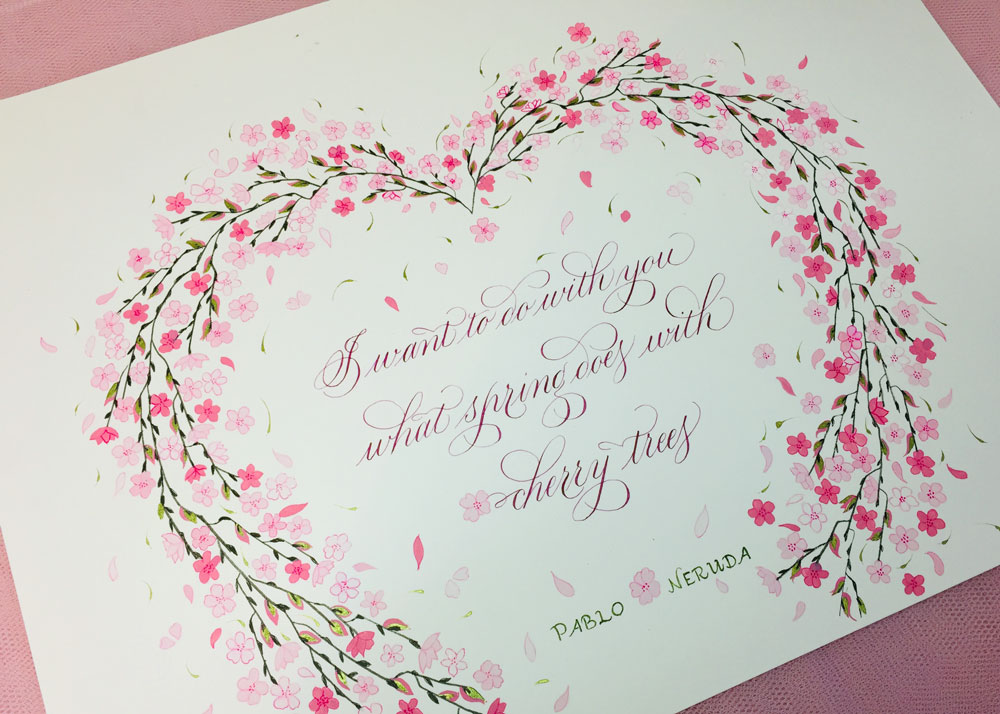 Image by Christina Janoszka
Saturdays
2.00 – 4.30pm


Dates
14, 21, 28 January;
4, 11, 25 February;
4, 11, 18 and 25 March 2023

Half Term: 18th February 2023 (no teaching)


£200



Please read our Booking Terms and Conditions below carefully before booking.
---
Who is this class suitable for?
Ages 16+
The course is suitable for anyone who is interested in calligraphy and learning to use a pointed pen nib with ink and paint.
What will be covered in the class?
Students who are new to the class will learn to write in the copperplate style, lower and upper case. After learning the basic writing style, students will move onto flourishing and introducing colour.
The skills and techniques learned in the course can be used over and over again to produce beautiful pieces of work - illustrating poems, creating unique and lovely card designs, wedding stationary and adding a flourish to envelopes and much more.
Students who have previously completed the course can move on to improving their pointed pen and flourishing skills whilst creating mandalas, illuminated letters and borders for poems, greeting cards and other projects.
Both pointed pen calligraphy and flourishing are done using the same pen and nib. Colour is introduced through the use of gouache paint and other craft products.
What will students leave the class with?
New Students
New students will leave with a 20 page booklet of worksheets and examples of copperplate calligraphy practice and flourishes. Students will complete at least two projects over the 10 weeks.
Ongoing Students

Ongoing students will receive additional worksheets on advanced flourishing exercises, samples and techniques. Students will complete at least two projects over the 10 weeks.
Ongoing students will already have a large range of worksheets and designs to work on. The first weeks we will brush up our copperplate writing skills (lower case and capitals) as well as previously studied flourishes. Students will then focus on developing advanced flourishes as part of a poem of their own choosing. Students will then use various methods to illustrate the poem using gold and colour. Students can select their own projects during the course and work with Christina to bring their chosen projects to completion. Different materials and techniques will be demonstrated throughout.
---
Week 1
Understanding how to use and maintain the pointed pen equipment.
Fun exercises to build up muscle memory and loosen the arm using pencil.
Ruling up and understanding the pen angle, height and width of the letters.
Practicing the basic pen strokes to make sure basic shapes are understood and accurate shapes are being made.
Entrance/exit stroke
Overturn
Underturn
Compound Curve Oval
Ascending Stem Loop Descending Stem Loop
Week 2
Continuing practicing the basic pen strokes learned and in week 1.
When confident, creating the lower case (minuscule) letters of the alphabet a-z.
Week 3
Using the lower case (minuscule) letters of the alphabet a-z learned in week 2, slowly creating short words linking the letters together using the correct shapes. Writing out an a-z list of flowers or names or countries etc. For example, angela - barbara - caroline using lower case letters.
Week 4
Learning uppercase basic strokes A - Z
Hairline Entrance Stroke
S Curve also known as the Universal Line of Beauty
Upright Compound Curve
C Curve
Entrance Stroke
Learning how to write upper case letters A - Z
Week 5
Bringing it all together! Practicing writing out a word with capital and lower case letters such as 'Happy Easter' and learning a few basic fun flourishes using the nib to enhance the words. Copying the words onto a card with an envelope and addressing the envelope ready for the Christmas season.
Weeks 6-10
Using the skills and techniques learned in the first 5 weeks, working on further flourishes and completing different designs and projects.
---
What will I need to bring?
Materials and tools are included.

Location
Art Studio. The art studio is situated at the top of a flight of stairs. Tools are all light and accessible. Work benches are not currently height adjustable.

Tutor
Christina is a graduate of Balliol College, Oxford University and was a Tutor and Manager in the Faculty of Social Sciences at the Open University for many years. Her passion for calligraphy and illumination led her to study at Reigate College of Art, The Prince's School of Traditional Arts and with a Master Penman in the US.