Pointed Pen Calligraphy & Flourishing Forward with Christina Janoszka

Ten Week Creative Course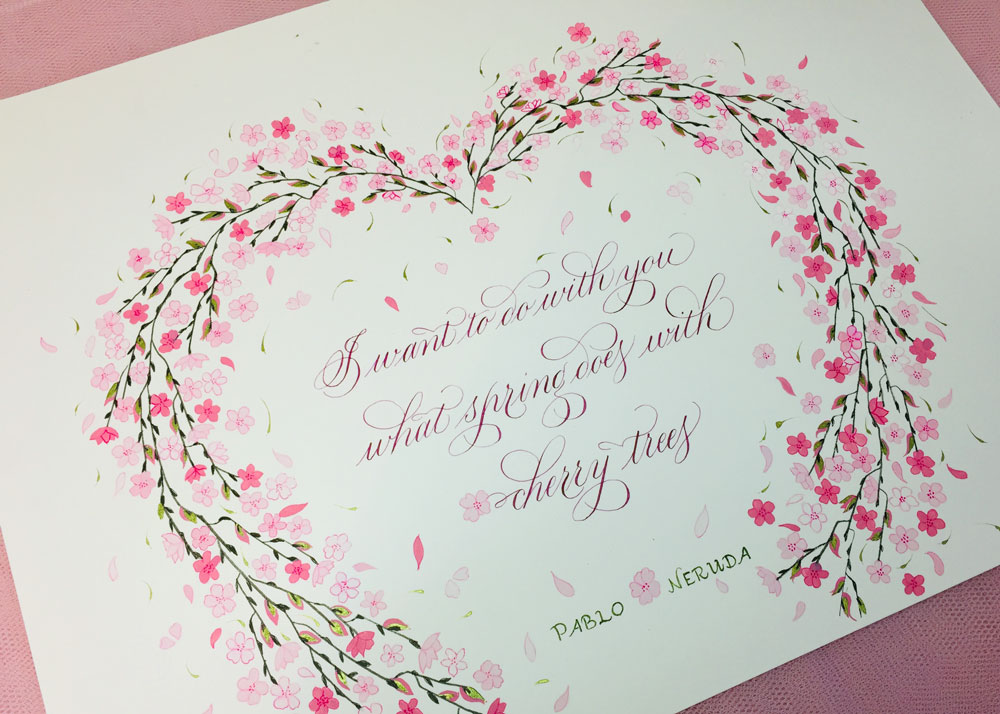 Image by Christina Janoszka
Tuesdays
10.30am–1pm


Dates
3, 10, 17, 24 May 2022
7, 14, 21, 28 June 2022
12, 5 July 2022

Half Term: 30 May – 5 June 2022 (no teaching)


£200


Gift vouchers available

Please read our Booking Terms and Conditions below carefully before booking.
---
Who is this class suitable for?
Ages 16+
The course is suitable for anyone who is interested in learning to use a pen and nib with ink and paint.
What will be covered in the class?
For those unfamiliar with pointed pen calligraphy, the first five weeks of the class will be learning to write in the copperplate style, lower and upper case. For those who have some experience after polishing up writing skills, we will start practicing flourishing.
Both pointed pen calligraphy and flourishing are done using the same pen and nib. Colour is introduced through the use of gauche paint and sparkle through other craft products.
What will students leave the class with?
Students will leave with a 20-page booklet of drills and worksheets and an envelope using pointed pen calligraphy with a small flourish. A 10-page booklet of flourishing exercises, samples and techniques and up to 5 pieces of completed work, learning to combine elegant copperplate calligraphy with beautiful 'off hand flourishes'.
Week 1: Refreshing pointed pen calligraphy. Introducing some flourishes as part of capital letters.
Week 2: Practicing a range of pre-prepared 'off-hand' flourishing exercises.
Week 3: Practicing and preparing a personal sampler of off-hand flourishes. First completed piece of work: a sampler of off-hand flourishes.
Week 4: Creating a quill design.
Week 5: Combing the quill design with flourishes. Second completed piece of work: a traditional quill design combining flourishes from the sampler.
Week 6: Preparing and designing a card and envelope combining pointed pen script and off-hand flourishes. Third completed piece of work: an envelope and card using pointed pen calligraphy and flourishes.
Week 7: Prepare and design the mandala.
Week 8: Finish off the completed mandala using pointed pen off-hand flourishing. Fourth completed piece of work: a mandala of 'off hand flourishes' using the quill design learned in week 5.
Week 9: Using a piece of text or poem of the students own choosing, layout and design a piece using pointed pen calligraphy and illustrated with flourishes.
Week 10: Complete the piece design made in week 9 using pointed pen calligraphy and illustrated with flourishes. Fifth completed piece of work: a decorated pointed pen text/poem of the students own design, using traditional flourishes.
These skills and techniques can be used over and over again to produce beautiful pieces of work – illustrating poems, creating unique and lovely card designs, wedding stationery, adding a flourish to envelopes and much more.
---
What will I need to bring?
Materials and tools are included.

Location
Art Studio. The art studio is situated at the top of a flight of stairs. Tools are all light and accessible. Work benches are not currently height adjustable.

Tutor
Christina is a graduate of Balliol College, Oxford University and was a Tutor and Manager in the Faculty of Social Sciences at the Open University for many years. Her passion for calligraphy and illumination led her to study at Reigate College of Art, The Prince's School of Traditional Arts and with a Master Penman in the US.