Build a Home with Maddi Nicholson this summer



Part of Home : Maddi Nicholson
June 2021 – September 2022
Join the artist Maddi Nicholson this August for a workshop in building a Beanhill or Netherfield house from clay! These workshops are FREE but have limited spaces and are pre-book only.
Addresses
Netherfield Meeting Place, Farmborough, Netherfield, MK6 4HS

Moorlands Family Centre, Beanhill Local Centre, Dodkin, MK6 4LP
Please note
7–14 year olds must be accompanied by an adult*
*Not suitable for under 7 year olds
Maddi will be back in the area on Saturday 27 August to help you to add the final details to your home!
Workshops
Thank you to everyone who joined us on 22 and 23 July in Beanhill and Netherfield. We met and worked with almost 100 amazingly creative people over the two days in creating individually designed miniature MK houses.
We will be back from 3–5 August to make the final pieces: 40 personalised ceramic money and suggestion boxes. The workshops are free but spaces are limited so book your space now (scroll up!).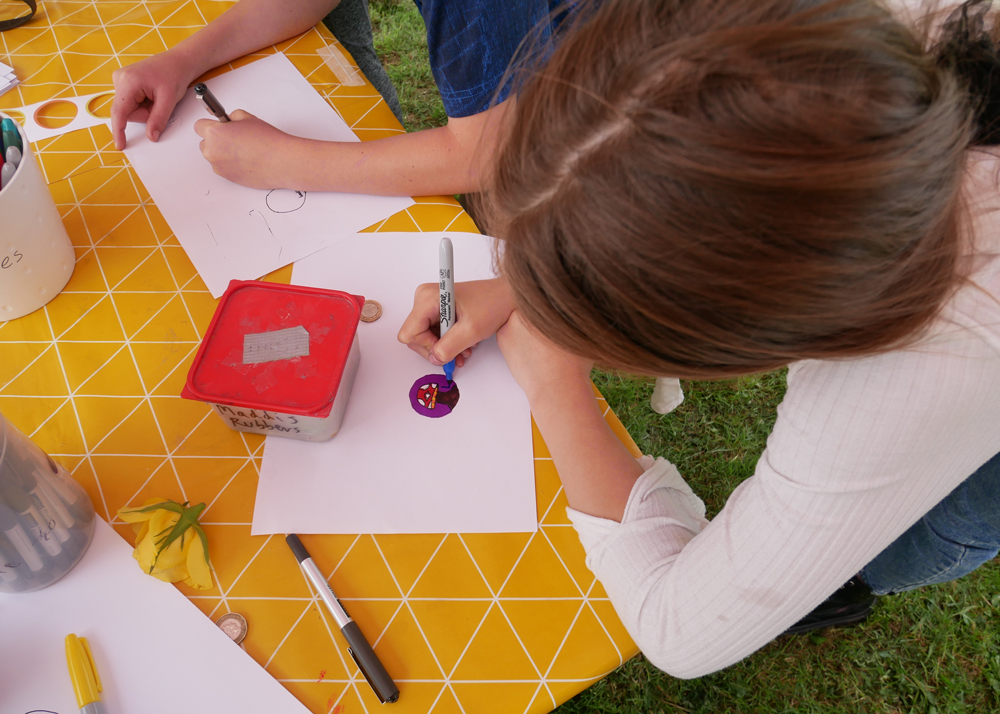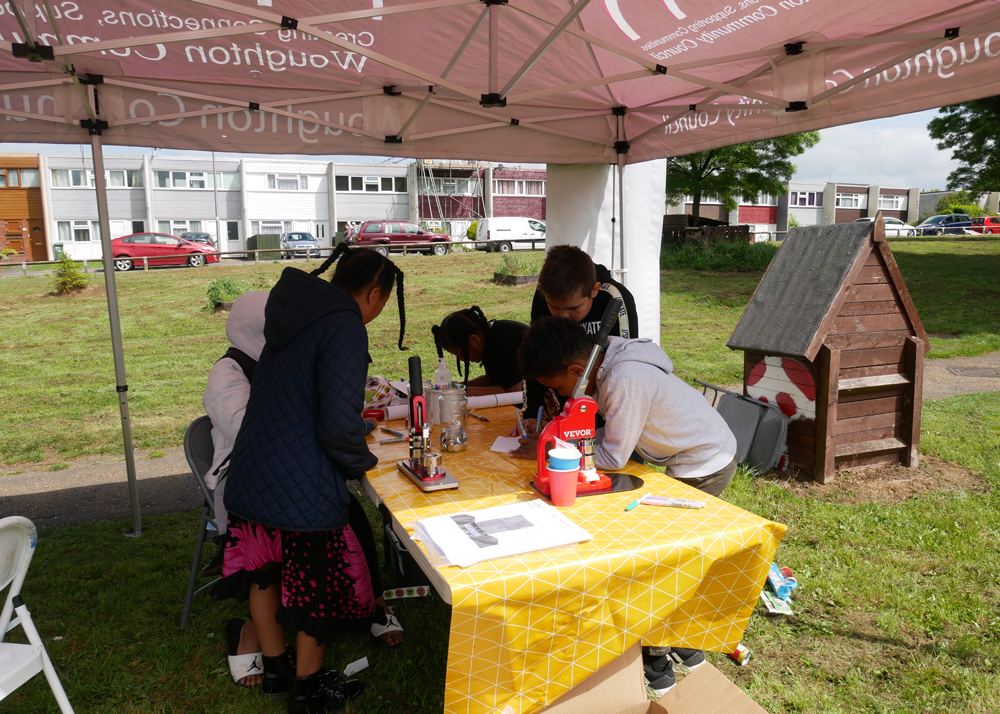 Thank you to all who came to meet Maddi in Netherfield Community Garden on Saturday 21 May and for making so many amazing badges. We will be back in July and look forward to seeing you again then.
Do you live in Beanhill or Netherfield?

Would you be interested in organising art projects and activities in your neighbourhood?

If so, we want to hear from you.
Sign up here to find out how you can get involved in the Project ︎︎︎
Maddi Nicholson: Home is supported by Milton Keynes Community Foundation
Home
Maddi Nicholson



June 2021 – September 2022
Maddi Nicholson is an artist who specialises in working with people and place. Her interest is in communities: communities of people, of objects, of interest, of life – and the choices and allegiances that one makes.

From June 2021 to September 2022, Maddi Nicholson will be a Visiting Artist at Milton Keynes Arts Centre, working with local people to delve beneath preconceptions of buildings, and the people who live or lived in them, to explore what 'home' subjectively means to each of us.

In 2019, Maddi Nicholson first visited Milton Keynes and says:

"Over the past few years I have been investigating perceptions of place, class and status that are embedded in particular structures, especially northern working class terraces, public and civic buildings, animal and agricultural structures and homes of all types.

I was particularly interested in the buildings of Milton Keynes Arts Centre, and the grounds of Great Linford Manor Park: the Schoolhouse and Almshouses, built by William Pritchard in 1696; twin stable pavilions; and the Radcliffe building; their perceived grandeur and status, however untrue, in comparison with some of the 'modern' 1970s estate housing surrounding the Arts Centre and in the outlying areas around Milton Keynes."

Photograph by Maddi Nicholson


---
Make Your Own 3D Paper House

Download these artist-designed templates of a Milton Keynes house as a fun activity to do at home. Decorate your house with pictures, words and symbols which celebrate your identity and the place you live.
Click here to download all five templates
Don't have a printer? Don't worry!
We'll have plenty of house templates and drawing materials in our gallery for everyone to use. If you're stopping by Great Linford Manor Park for a walk or picnic, why not drop in and get making over a cup of tea.
Limited Edition Milton Keynes house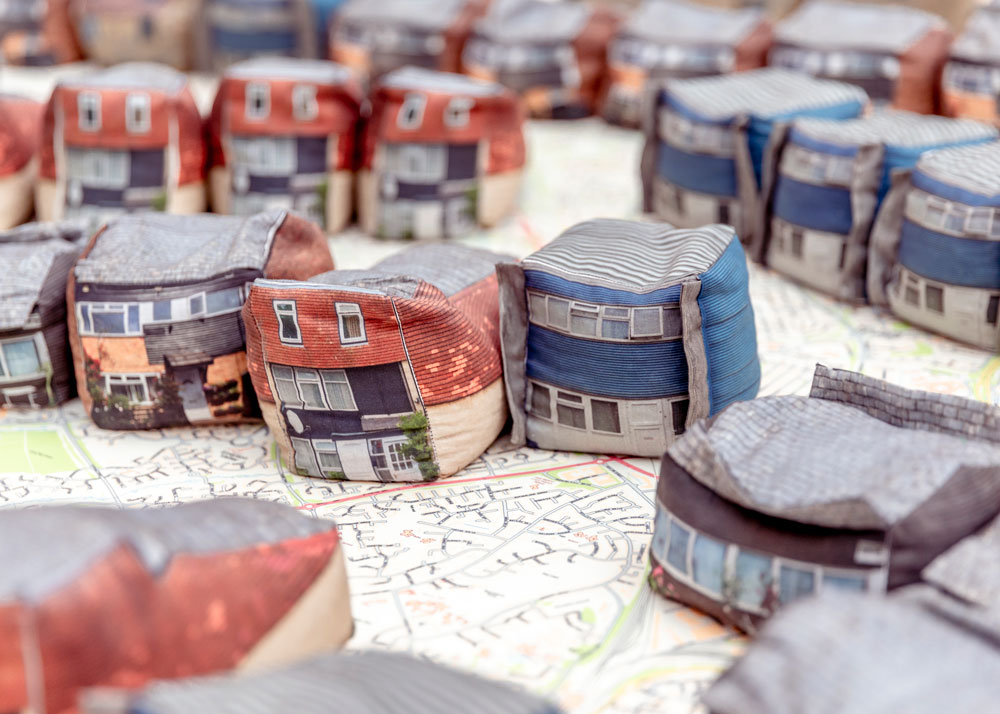 £12 each + P&P
or complete set of five for £50
A limited edition series of fabric Milton Keynes houses created by the artist, Maddi Nicholson, with the people of Milton Keynes for the project,
Home
. Each fabric pattern gives you instructions to follow to create your own home.
Each signed and numbered, edition of 105.
Home by Maddi Nicholson – Exhibition tour

28 September – 2 October 2021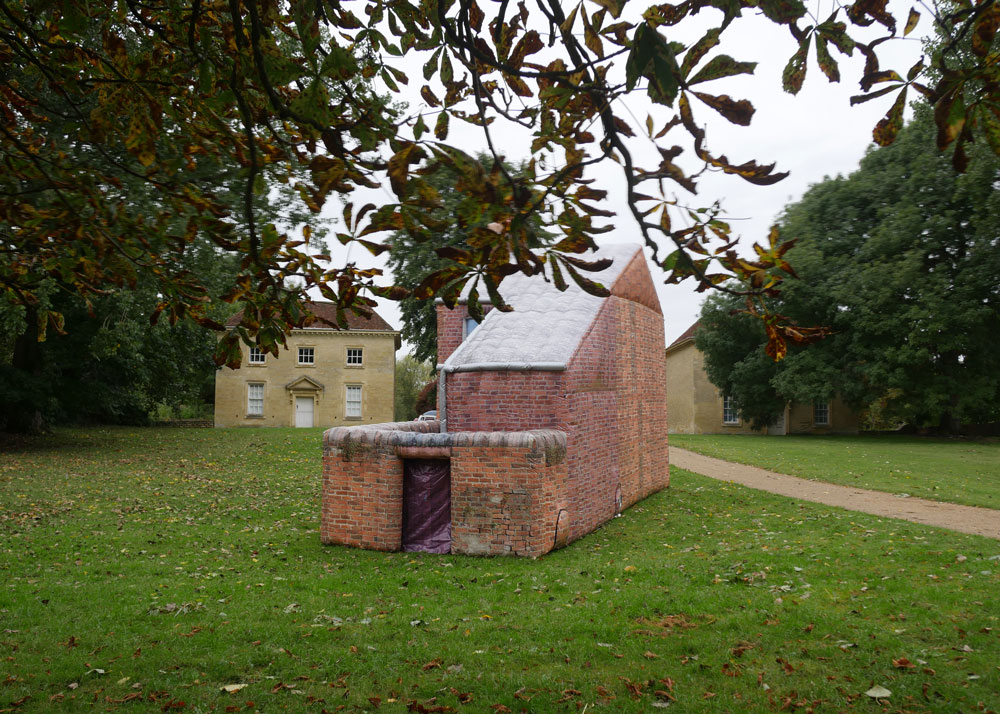 In June 2021, Maddi Nicholson invited the people of Milton Keynes to take her for a series of walks: to show her their neighbourhoods and to tell her about the things they liked and didn't like about where they lived. The artist was taken around areas including Great Linford, Eaglestone, Netherfield and Beanhill. She became particularly fascinated with the distinct architectural designs characterising houses in each of these areas and, in July, she returned to work with local school and community groups to make over 100 miniature houses based on five designs.

This miniature housing estate then went on tour across Milton Keynes in September 2021alongside a 5 metre high inflatable sculpture of a typical terraced house from Maddi Nicholson's home town, Barrow-in-Furness. The tour comprised exhibitions in Beanhill, Netherfield, Great Linford and Central Milton Keynes, with each exhibition associated by events and activities designed by and for local residents. Limited editions house-making packs were also created to sell, with 50% of the proceeds going back into the areas on which the designs were based.

Maddi Nicholson continues working with Milton Keynes Arts Centre in 2022; more information coming soon.

With special thanks to participants from Great Linford Primary School, Moorland Primary School, Moorland Family Centre, The Little Bookshop and MacIntyre MK for their help making up the miniature fabric houses which toured alongside Maddi Nicholson's work Going Home from Here (2009).