Home with
Maddi Nicholson



June 2021 – July 2022
Maddi Nicholson is an artist who specialises in working with people and place. Her interest is in communities: communities of people, of objects, of interest, of life – and the choices and allegiances that one makes.

From June 2021 to July 2022, Maddi Nicholson will be a Visiting Artist at Milton Keynes Arts Centre, working with local people to delve beneath preconceptions of buildings, and the people who live or lived in them, to explore what 'home' subjectively means to each of us.


In 2019, Maddi Nicholson first visited Milton Keynes and says:

"Over the past few years I have been investigating perceptions of place, class and status that are embedded in particular structures, especially northern working class terraces, public and civic buildings, animal and agricultural structures and homes of all types.

I was particularly interested in the buildings of Milton Keynes Arts Centre, and the grounds of Great Linford Manor Park: the Schoolhouse and Almshouses, built by William Pritchard in 1696; twin stable pavilions; and the Radcliffe building; their perceived grandeur and status, however untrue, in comparison with some of the 'modern' 1970s estate housing surrounding the Arts Centre and in the outlying areas around Milton Keynes."



Photograph by Maddi Nicholson



Would you like for your home to feature as part of the final artwork?
Artist Maddi Nicholson invites local Milton Keynes people to share exterior photographs of their homes, helping her celebrate the architecture which makes up our New Town.

Your house could be selected to be reproduced in miniature and in fabric, which will be made up by school and community groups to form part of the touring exhibition.
Please only send external images of houses and only with the homeowner's consent.
Make Your Own 3D Paper House


Download this artist-designed template of a Milton Keynes house as a fun activity to do at home. Decorate your house with pictures, words and symbols which celebrate your identity and the place you live.

Click here to download three templates
Now share your paper house with us!

Upload
Upload a photo of your house and we'll drop it into our online interactive map of Milton Keynes.

Visit us
Come along to Milton Keynes Arts Centre and place your house on our interactive printed map for visitors to the gallery to see

Social
Share it on social media and tag us on Instagram @miltonkeynesartscentre Twitter @MKArtsCentre and Facebook @miltonkeynesartscentre
Upload here
Don't have a printer? Don't worry!
We'll have plenty of house templates and drawing materials in our gallery for everyone to use. If you're stopping by Great Linford Manor Park for a walk or picnic, why not drop in and get making over a cup of tea.
When it's finished, you can leave it on our printed interactive map, or take it home with you.

This activity is free to take part in, and suitable for all ages.

Children must be accompanied by an adult at all times.



Opening times:
Monday, Tuesday, Wednesday and Saturday
10am–4pm
Free entry

Your Place – Walk and Talk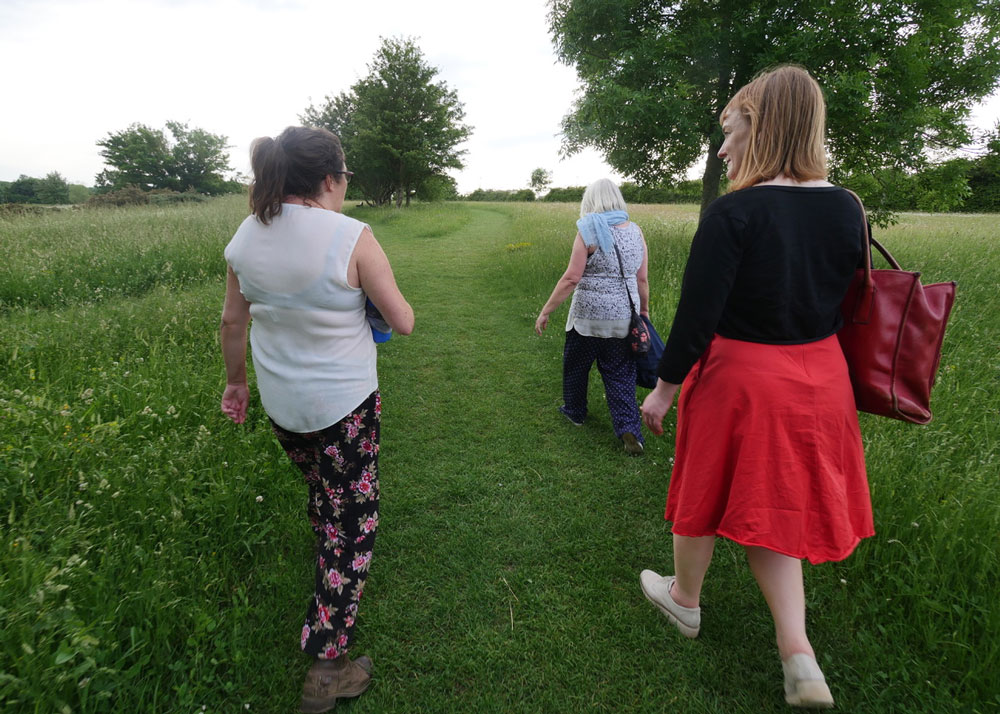 Photographs by Maddi Nicholson
During one week in June, Maddi Nicholson will be inviting local people to show her where they live and to share what their home, street and community means to them.

These interactions will provide the artist with a sense of Milton Keynes through the eyes of local people, feeding into the next stage of her project – selecting houses to photograph and digitally reproduce on fabric to create a mini estate to be toured around MK later in the year.
Share your walk with us!
We invite everyone in Milton Keynes to take a walk around where you live and to record it – and you – telling us why your home is important to you. This may be via a home video or an audio recording, which can then be emailed to us at hello@miltonkeynesartscentre.org
Your virtual walks will be used to provide Maddi Nicholson with a better understanding of Milton Keynes and what it's like to live here. You may also find your area has been selected by the artist as a tour location for the exhibition later in the year.