Create Your Own Wintery Owl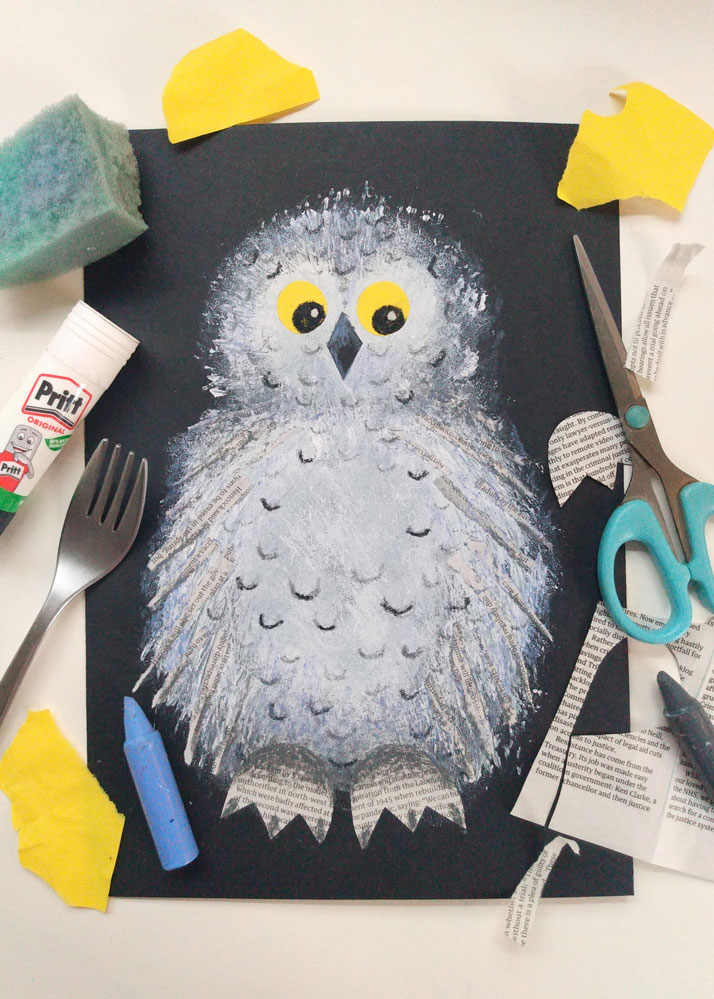 Image by Sarah Hunt
10am–11am
Saturday 6 February 2021
with Sarah Hunt
Online workshops via Zoom

Pay what you can
*The recommended ticket price for this workshop is £4.50 per family. If you are in a position to make this donation towards the running costs of the workshop, it is greatly received.
This enables us to offer future workshops and helps to secure the long-term future of Milton Keynes Arts Centre. If you wish to make a smaller donation, you can decide the amount that is right for you from the drop down above.
Join textile and mixed media artist Sarah Hunt to create your own wintery baby snowy owl picture. Find a fork, seek out a sponge, collect some newspaper and crayons, but there is just one rule – NO paintbrushes allowed!
Who is this class suitable for?

Recommended for ages 5+, children must be accompanied by a supervising adult at all times.
You will need

Materials – white paint (can be poster paint or acrylic, as long as it is not too runny), a palette (yoghurt lids, old plates or paper plate will work), glue stick, crayons/coloured pencils, black or dark coloured paper or card A4 or bigger, newspaper and scraps of yellow paper (for eyes).
Tools – sponge (can be any kind from bath sponge to washing up), fork, scissors.
Safety reminder
Be careful when using scissors, and when experimental painting using objects around the house. Make sure paint is washed off any household items, like cutlery, thoroughly afterwards.

Tutor
Sarah Hunt is an artist living in Milton Keynes. She teaches Mixed Media at Milton Keynes Arts Centre as well as leading other workshops and events. Sarah loves to learn and share new creative skills and firmly believes that being creative makes us feel good!